About Us
Snow Angel Films
Snow Angel Films is an independent film production company based in Winnipeg, Canada, and was established in 2010 by sisters Saira Rahman and Nilufer Rahman.
Although Snow Angel was founded primarily to support its first feature documentary film, Arctic Mosque, it has since grown to produce several short films, documentaries and videos for businesses, artists, politicians and non-profit organizations.
Our Mission Statement
Snow Angel Films aims to tell compelling stories through diverse voices that encourage constructive conversations toward shaping a more sustainable and compassionate world.
Our Goals
As Canadian women of Muslim and Bengali heritage, we value unique experiences and perspectives and we aim to create a compassionate space where diverse and marginalized voices can find expression.
We want our films to be an opportunity to engage in social issues affecting our community and world and ultimately to motivate positive social change. We hope our audiences feel that they have invested their time well and have experienced something new and refreshing when watching our films.
The Snow Angel Team
In 2010, sisters Nilufer and Saira founded Snow Angel Films to produce their first feature documentary Arctic Mosque, which tells the story of the most northerly mosque in the Western Hemisphere and its historic 4000 km journey by road and river from Winnipeg to the small Arctic town of Inuvik.
Nilufer
Nilufer Rahman is a photographer and independent filmmaker based in Winnipeg, Canada. In 2007, she interned on the set of CBC's hit television sitcom, Little Mosque on the Prairie. In 2010, after completing the Digital Film Production program at Langara College in Vancouver, she co-produced her first feature film, Arctic Mosque (aired on CBC and APTN in Canada and SVT Sweden), and established Snow Angel Films with her sister, Saira. In 2017, Nilufer won the MAX Films For Change competition for Letter To A Terrorist, a short art film created in response to the "trauma of our time". Over the past few years, Nilufer has become a well-respected local filmmaker, known for making films with heart and depth that illuminate diverse voices. Nilufer also has a Master's degree in History from the University of Manitoba, and a Diploma in Photography from Prairie View School of Photography in Winnipeg.
Contact Nilufer:
nilufer@snowangelfilms.com
Saira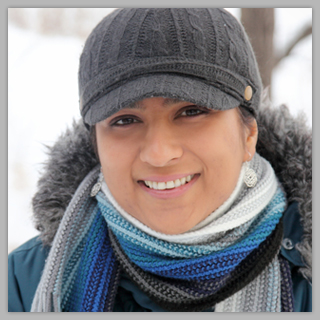 Saira Rahman grew up in Winnipeg, and was a teacher and principal before pursuing filmmaking. In 2003, she wrote a 3-part documentary series about Muslim Canadians called A New Life in a New Land (Milo Productions), which aired nationally. After completing the Digital Film Production program at Langara College in Vancouver, Saira and her sister, Nilufer, established Snow Angel Films in 2010, producing their first feature documentary, Arctic Mosque (CBC, APTN) and most recently, Prairie Mosque (BellMTS), a story about the first mosque established in Winnipeg in 1976. Saira is also an emerging actor having performed in the theatre productions The Game (Sarasvati Productions), Murder By Poe (PTE Adult Company), Boundary Avenue (One Trunk Theatre) and Baby Box (Sarasvati Productions).
Contact Saira:
saira@snowangelfilms.com